MSCC 182/9 v 206/8 Invalids CC
Match Date & Time
| Date | Time | Season |
| --- | --- | --- |
| September 3, 2023 | 1:30 pm | 2023 |
Match Report
The Invalids Cricket Club is a wandering cricket club, it was founded in 1919 by JC Squire, poet, critic and editor of the London Mercury magazine. The name was given in honour of several players wounded in WW1. They arrived promptly and in good spirits sporting their club colours of hospital blue and old gold (inspired by the army officers' hospital pyjamas), with a crest representing a pair of crossed crutches.
On Sunday morning the village was shrouded in a heavy mist. The sun soon burned this off revealing our beautiful cricket ground in very fine fettle thanks to the ongoing work of Paul Wordsworth and his helpers.
Middleton took to the field first. This is always the best option as it means we can savour our cricket tea without all having to rush out to field.
Sam Norley and young James Lyon opened the bowling and bowled thirteen very tidy overs. Sam removed Faraz in the process, caught behind by Matt Carpenter. We thought this was a good thing but in fact we had opened Pandora's Box! (I went to school with a girl called Pandora …………………….)
Mr. Culitly, a skilful, hard hitting, chirpy young Australian with a most unfashionable moustache and his partner Mr. Roberts then proceeded to put our bowling to the sword. Like Napoleon marshalling his troops Tim Riley, our illustrious leader, rotated the bowling to try and break this excellent partnership. Asif, Tim House and Jason all had a few overs without a breakthrough and the score increased.
I had a go and was surprised to have a good LBW shout turned down by the Invalids fine and long serving umpire Mervyn as I was blocking his view. I am regularly berated by umpires for this so he may have had a point! (Simmo's first fail of the day).
Our Leader Tim Riley finally broke the partnership when Matt Carpenter deftly stumped Mr. Roberts who had scored 62. Mr. Christie strode out to bat and was very unlucky to be quickly adjudged to be out LBW as Mervyn was just able to see around my portly frame on this occasion.
The next batsman Mr. McIntosh is clearly a staunch advocate of the new Bazball era and tried to heave every ball over midwicket, with some success. He eventually succumbed, quickly stumped by Matt Carpenter whilst trying to heave my only leg break of the season over the pavilion. James had the Australian Culitly caught behind for a very well made 79. A sharp piece of fielding also by James Lyon affected a run out. I bowled Mr. Abdul to add a bit a tad of respectability to my bowling figures.
James had a second bowling spell and had Mr. Shinter caught by Tim Riley. The Invalids declared at tea on 206 for 8.
Matt Carpenter had achieved two catches and two stumpings – a fine effort!
Tea was a proper MSCC feast. Jon Springer produced a variety of splendid fresh sandwiches, quiche and crisps etc. Denise had baked some lovely cakes too. Excellent!
Timothy House and Colonel Mike Robinson strode out to bat. Timothy clearly had his tail up and set about the Invalids lively opening bowlers with great purpose and gusto. Sadly the Colonel was caught out having scored four so we were 10 for 1.
Howard Lancaster joined Timothy at the crease and had scored two nice 2's before deciding to leave a ball outside his off stump with his bat aloft. A thing of great beauty!
In the MCC Masterclass coaching manual published in 1994, Geoffrey Boycott describes how the leave can be used to manipulate the bowler to bowl where the batter wants, to grind them down in the battle of wills. "Wait. Have patience. Let him see you refusing to drive so that he is tempted to land the ball a foot closer to you. Then bang. Get on the front foot and drive the ball away."
Yes, Howard left the ball with great aplomb but sadly his judgement on this occasion was slightly awry and his off stump went cartwheeling past the wicket keeper and his delighted slip cordon who all smiled as Howard made his way back to the hutch. Did the ball nip back? Was Howard daydreaming about his lovely new fitted kitchen? We will probably never know!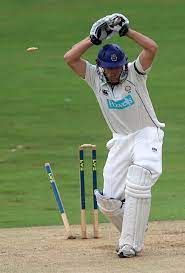 22 for 2
Jay scored 7. Matt Carpenter scored 4. Timothy House, having seen off the new ball, fell for 18, disappointed as he was seeing the ball very well.
Tim Riley came to the crease and looked completely at home. Timing the ball nicely and scoring quickly. He was well supported by James Lyon for a while until James was bowled having scored 8. 61 for 7
I strode to the crease, in my element – Chance to Shine – in my mind me and Tim Riley would knock off this large total with one over to spare and show these youngsters how it's done!
Two balls later I was back in the pavilion having snicked a wide one to the joyful wicket keeper. This, my second fail of the day, would curtail my mild ribbing of Howard and his fine leave. Which was a real shame! 61 for 8
Simmo's Wagon wheel for the day…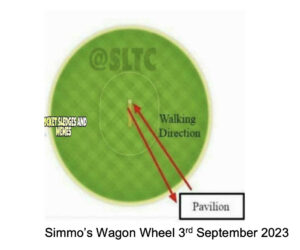 Tim Riley batted on with consummate ease, including some of his trademark paddle shots, very well supported by Jason Williams (8 runs) 112 for 8 and then Sam Norley (13 runs) 177 for 9, who skilfully protected their wickets and fed Tim the strike. Our score was becoming respectable with an outside chance of a win. Credit must also be given to the Invalids Skipper who had his spinners toss the ball up and left his slip cordon in place. This made it viable for us to go for victory and maybe also loose wickets in the process. Sunday cricket at its best!
Time stood still as Asif (a top man but he is seldom likened to Donald Bradman) made his way to the middle. He had to survive the last two overs with Tim to avoid defeat. Start the car!
Tim was seeing the ball like a football. When he took a single to give Asif the strike we thought either he had gone mad or money had changed hands! But survive he did and the Invalids snatched a Draw from the very jaws of Victory! A GREAT GAME
A good crowd enjoyed the game, drinks and barbeque. The Invalids were good company and as ever Chris did a great job in the scorebox.
Reserves: In no particular order. 1. Anirudh Sharma 2. Arvind Sharma 3. Elliot Barton 4. Jamie Lumb 5. Paul Wordsworth 6. Finlay Moss
Officials
| Scorer | BBQ |
| --- | --- |
| Chris Greer | Jason Williams |