West Wycombe CC 166/7 v 163/8 MSCC
West Wycombe CC won by 3 runs
Match Date & Time
| Date | Time | Season |
| --- | --- | --- |
| August 27, 2023 | 1:30 pm | 2023 |
Match Report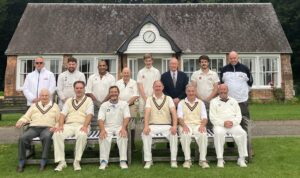 MSCC v West Wycombe
If we win or lose this weekend, it will not make a difference in our lives. But why we play and how we play will make a difference in our lives forever.
Elizabeth Rambo Anders – US Olympic medal winning hockey player.
West Wycombe won by 3 wickets
August's fixtures drew to a close with the second visit of West Wycombe to Middleton Park. Last season West Wycombe had just held on to a draw, their middle order demolished by the wiles of Jason Williams. This season they completed their mini tour of the south coast with this game. It is not often that we are thought of as a seaside ground.
A slightly delayed start, it can be an awkward route from Eastbourne, meant that West Wycombe were to take the field with seven of their own, three guesting fielders and a captain yet to emerge from the changing room. Jay Mumtaz and Simmo were taking guard as the captain limped on to the field and surprised his own team with his choice of opening bowler. Bowling right are round he conceded four wides, two leg side boundaries and a brace of singles and had the home players wondering if this would be a challenging fixture.
Soon the missing car arrived, the visitors were up to a full complement and normal cricket resumed. The opening bowler was replaced by a younger, slimmer and much faster version and batting became a much greater test of skill.
Simmo has been known to let his batting partner know the wisdom of his ways, particularly with calling. Jay has been known to have his own method of backing up and calling. There have been negotiations between Mick Lynch and the Ministry of Transport that have been conducted with greater hope of resolution than those between to the two opening bats.
Disagreements aside runs accumulated at a steady rate, mostly in singles with the occasional two. Jay hit hard but found the field well placed, Simmo played some stylish drives only to find the lush outfield pulling the ball up short of the boundary. As the innings passed fifty the rest of the team entertained themselves with sports trivia, Mark Ford Langstaff showing impressive knowledge of the early history of Rugby League.
David Jones bowled offspin from the Farm End. He bowled one of the best spells of the year by a visiting team, rarely off line, always on length and getting some turn. One of his best deliveries was too good for Simmo, who had departed for 28 bowled.
Jamie Lumb took his runs for the season past 450 with a powerful six over square leg, but was stumped soon after trying another. At drinks the score was still healthy and there were wickets in hand. Mark Ford-Langstaff gave Jay support for a few overs, before succumbing to a legside strangle. He was walking off before the umpire had a chance to raise his finger. Tim House just survived his first ball, an off cutter that took the inside edge narrowly past his wicket. As he in turn fed Jay the strike.
Jay had survived one chance, a bullet hit to mid off, but in the first 20 overs had failed to score a boundary. This now changed with three in quick succession as he passed his half century. A second chance was spilled at a deep slip before Tim House was bowled by a snorter which clipped his off bail, sending it spiraling toward deep third man.
Shaun Moss took over the supporting duties as Jay accelerated, hoping to set a target North of 150. West Wycombe whistled through their overs as Jay tried one aggressive shot too many to be caught for a season's best for MSCC of 68. Tim Riley took up the challenge in the last 20 mins, aided by Shaun scoring a 5 (or was it a 6) as tea loomed. Shaun fell trying to attack to be replaced by Finlay Moss. Finlay lofted his second ball perfectly tri-secting the field and giving his skipper the strike. Finlay was caught from a ball nearly, but not quite high enough in the full toss to be called a no ball allowing Robin Cummings the chance for an innings.
At tea the declaration was made at 163 – 8, not as many as had been expected after the first over, but a decent score on a pitch with some help for the bowlers and a slow outfield. A first tea outing of the Cummings household had long been anticipated. It was enjoyed by all, notably the coronation chicken sandwiches, home made cakes and freshly picked plums. Richard Lumb in particular was heard to be appreciative.
Matt Dipple had the new ball for MSCC. The West Wycombe innings began in much the same way as their bowling, an edge from the second ball, carrying to the usually reliable Mark Ford-Langstaff at second slip (that finger will be sore in the morning) before with his fourth ball, Matt clattered the top of off stump.
The second wicket partnership, the limping captain at number 3 and the mature number 2 began to rebuild. Robin Cummings started tidily from the Farm End, not showing too many effects of his 4.00 am bedtime the previous night. The ball swung, giving Jamie Lumb a challenge standingdup, and Mark a series of chases to deep fine leg. With the second ball of his fifth over Robin pulled up lame, a hamstring twanged, the parsimonious bowling of Tim House taking over.
The second wicket partnership did much the same as Middleton's first wicket, it set up an excellent platform. At the start of the final 20 overs West Wycombe still had nine wickets in hand and needed to score at five an over. Finlay Moss took over from Matt and Simmo from Tim in an all off spin attack.
The breakthrough came with a slow motion action replay of a run out. Both batsman were limping, the fielder, Jay, dragged himself through the treacle, picked up and threw to the bowler's stumps with a direct hit. Dave Jones was the new bat, he announced his intentions with a back foot drive for four. Game on. Tim Riley tried his luck, first ball went back over his head for six, third ball touched the finger tips of the long on fielder, but went for a second six. Dave's intention was to avoid the slow outfield.
Simmo worked hard to contain an end but runs flowed from the second over of Riley. The key moment came when Dave drilled the ball directly back only for a takeable catch to be spilled. With a shout of exasperation the skipper took himself out of the firing line. A second run out, (fast work by Jamie) provided the third wicket, with the visiting captain dismissed with forty runs still required.
Simmo's best ball of the day, almost a repeat of the ball by which he had been dismissed, gave a fourth wicket and led to the start of a game of cat and mouse with Middleton trying to keep Dave away from the strike with defensive fields and to attack the other end with attacking ones. When Dave was on strike the boundary edge was always challenged no matter who was bowling.
Matt proved the most likely wicket taker, his first a regulation catch behind the stumps for Jamie. Dave had put Wycombe into a winning position when Jay pulled off his second slow motion dismissal of the day. Fielding at third slip, the ball jammed between the batsman's bat and pad and looped to his right. With the ball halfway to him, Jay began to fall to his right, reaching out in front of him his finger tips just holding on as he hit the ground. Now Six wickets down Dave tried to control the strike, suggesting that he had little faith in the batting to come. With unknown batting to come Middleton's unlikely chance of saving the game were boosted when Dave finally holed out to an excellent low catch on the long on boundary by Mark F-L. His 70 runs had come very quickly and were the difference between the teams.
It was disappointing to lose an unbeaten run of Sunday games, but it is not just about winning and losing. West Wycombe enjoyed beer and barbeque, and were gracious in victory. An invitation to their ground was offered for next year. The next generation of players were practising on the outfield as Rona worked her magic on the barbeque and Seril and Andrew ensured the beer and wine flowed. Many thanks to our tireless officiating team of Richard and Chris.
The Dinner tickets are selling well, don't forget to order your place if you would like to come, contact Simmo for information.