Match Date & Time
| Date | Time | Season |
| --- | --- | --- |
| June 7, 2023 | 6:00 pm | 2023 |
Match Report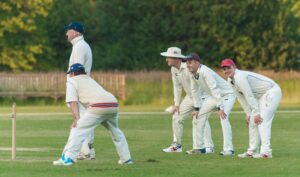 MSCC v NOC
"Cricket. It gets your blood going." Shoaib Akhtar
The cast, for that is what a collective noun of orthopaedic surgeons can be called, assembled on a warm early summer's evening at Middleton Stoney, and numbered the usual array of medically talented players. They would come to need both; talented medics and talented players, as the drama unfolded.
MSCC brought their own, in the form of Paul Wordsworth, but he was not available to play, so kindly offered to oversee the catering, preceded by umpiring, with the now incumbent Richard Lumb.
O Captain, my Captain (it's a drama) lost his fist toss of the season, and Martin (is it Doc. Martin?) confidently asked the hosts to bat first.
This year's laws of cricket at OX25 have evolved to allow "free-hits" for no-balls, a new batter to face the first delivery when coming to the wicket, and also having a rest when reaching 30 runs.
With that last point in mind, Jamie Lumb opened with Max Nalborczyk, the former counting himself down to a very fine, belligerent milestone to retire on a sneaky 33. Max was accumulating runs steadily and gracefully; his speed and judgment of running quickly between the wickets had visibly unsettled not only NOC, but also the incoming team-mate.
Tim House need not have worried about quick runs as he failed to take Max's observation that it "was coming on a bit quicker than one expects", protectively and literally "punching one" (as the Richard described it) straight to square leg, where inauspiciously Kendrick took the catch, obviously having anticipated the sharp bounce. First wicket down. Ironically, Max soon went the same way, for an unlucky 13.
Tim Riley took to the stage and demonstrated his customary array of strolled singles, reverse sweeps (I missed those, but apparently so did he) and a handful of boundaries. We thought we had witnessed his very first six at Middleton Stoney (amazing but true) but it fell centimetres short. Soon after he was retiring back to the pavilion with an unbeaten 31.
Keeping him company, but not as supporting actor, more of a Bat Man than a Robin, was Howard Lancaster. Each of his five boundaries was accompanied by that joyous sharp-crack outcry of velocity, and presumably a sigh of a job being done well. He also wandered off for a rest having reached 30.
Matt Carpenter and Stevyn Jackson had the unenviable task of adding quick runs with only a few deliveries left. Matt did exactly that…
Michael Simpson finished the innings off in the red. 154 had been reached.
For the NOC, the die had been cast.
Waiting patiently in the wings for the curtain to rise on the second act were Messrs. Norley, Dipple and Kamal, all who were to perform as the drama unfolded.
Sam started the proceedings with a tidy line and length, soon matched by Matt Dipple's clever use of pace and variation. The only runs that seemed to flow in the first four overs were behind square, and kept Howard occupied. Surely he had been hoping for a quiet evening in the field.
Both openers struck early and within six overs, and NOC looked to be struggling with the run rate.
A regular player for NOC, Kendrick appeared at the crease and looked to change all that. Matt Dipple managed to keep him quiet, then very quiet as disaster struck, or rather the ball did. The poor man was floored and a cast of colleagues charged out to see how they could help.
"Yet who would have thought the old man to have had so much blood in him? Matt Dipple, or Lady Macbeth, was heard to say in hushed tones.
"Aye, cricket is quite a gentle, harmless game, but he is a lucky man who has not to sweat some blood before he's done with it."
His understudy was sent out and the play resumed, both openers returning 1-19 off their allotted overs.
By this time Richard Lumb had generously decided not to time out any incoming batter.
Asif Kamal and Michael Simpson took to the stage and cried havoc. Asif led with enthusiasm while Michael stuck with guile. Both picked up early wickets and MSCC could smell blood…the barbeque.
Simmo was supported by some outstanding arial fielding, with both Tim's saving runs with breath-taking parries. The bowler was heard to be expressing how extraordinary the fielding was on the day. These were catches they "would have caught 99 times times out of 1,000″ as Henry Blofeld (nearly) said. Michael had sensed he could have had his name up in lights, but it was not to be.
As night drew in, the clock past 8.40pm, the drama reached its climax, Stevyn Jackson took the ball and our optimistic opposing captain, Martin, made tried to make hay. Stevyn, with speed of thought and sleight of hand, ran him out to win the match.
NOC will return for an encore, bloopers will occur, blood will be spilled. Fortunately, life will go on at Middleton Stoney. "Fifty years on from now, Britain will still be the country of long shadows on cricket grounds".
Reserves - 1. Elliot Barton
Officials
Umpire
Scorer
BBQ
Paul Wordsworth
Richard Lumb
Chris Greer
Paul Wordsworth